Posted on 05.06.20
Ryan Specialty Group Names Brendan M. Mulshine Chief Revenue Officer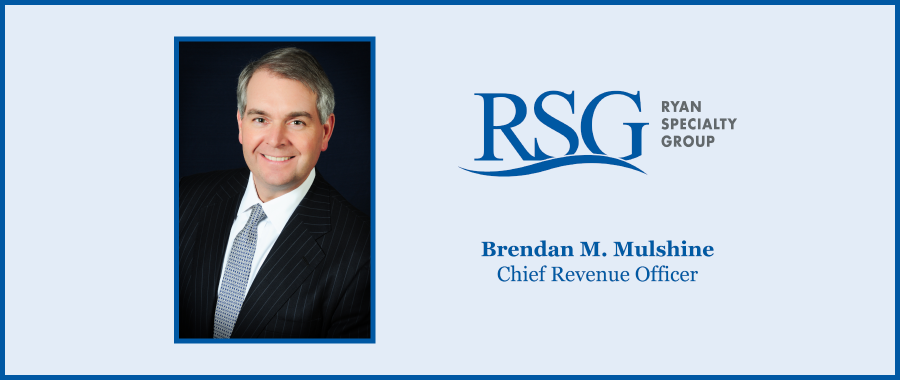 May 6, 2020, CHICAGO, IL – Ryan Specialty Group (RSG) is pleased to announce Brendan M. Mulshine has been named its Chief Revenue Officer. In his expanded position, Brendan has the responsibility for working closely with RSG's business units, R-T Specialty, LLC and RSG Underwriting Managers, LLC to sustain and expand the industry leading organic growth that RSG has experienced for the past 10 years. In tandem with RSG's operating companies, Brendan will continue to collaborate with clients and carriers to develop innovative products and solutions.
Commenting on Brendan's appointment, Patrick G. Ryan, Founder, Chairman and CEO of RSG, said, "Brendan has been a very important leader in our organization's rapid growth since joining our firm eight years ago by working with our clients and carrier partners. Brendan's deep industry experience and business acumen have earned him the respect of RSG's clients, key carriers and internal RSG leadership. Brendan's focus is to continue to support RSG's organic growth with our operating companies through innovation and development of growth opportunities. I value Brendan's insight and foresight and am looking forward to his continued leadership at RSG."
Prior to joining RSG, Brendan held several leadership roles with Aon Re, working with domestic and global insurance company clients on their reinsurance capital needs. During his 18 years at Aon, Brendan accumulated a broad range of experience working with both traditional reinsurance and capital markets solutions. Brendan is a graduate of Yale College, the University of Notre Dame School of Law, and Northwestern University's J. L. Kellogg School of Management.
Brendan can be contacted at Brendan.Mulshine@ryansg.com or 312-878-8325.
Media Inquiries, please contact:
Alice Phillips Topping, Chief Marketing and Communications Officer
Alice.Topping@ryansg.com or 312-635-5976
About Ryan Specialty Group, LLC
Founded in 2010, Ryan Specialty Group, LLC is a leading international specialty insurance organization which includes a wholesale brokerage firm (RT Specialty) and highly specialized managing general underwriting companies (within RSG Underwriting Managers) designed specifically for brokers, agents and insurance carriers. ryansg.com