Posted on 06.28.23
RT Specialty Los Angeles "Adopts A Wish" from Make-A-Wish Foundation Greater LA Chapter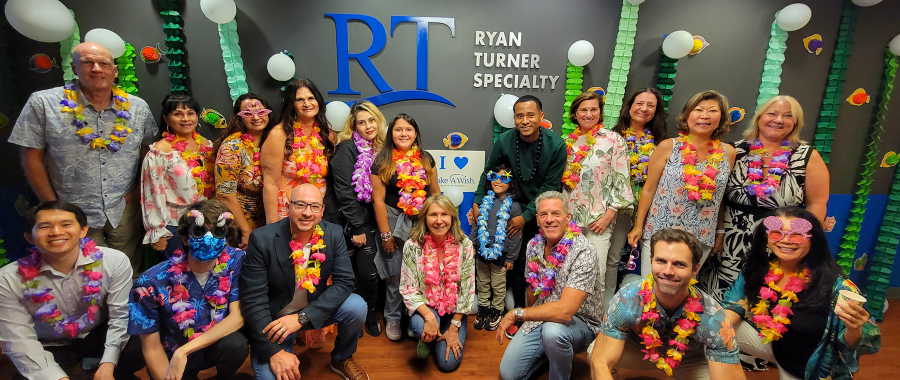 June 28, 2023 | CHICAGO, IL – RT Specialty, the wholesale distribution specialty of Ryan Specialty (NYSE: RYAN), a leading international specialty insurance firm, "Adopted A Wish" this month in conjunction with the Make-A-Wish foundation's Los Angeles chapter.
Led by the efforts of Viviane Woodcock, President, RT Workers' Compensation, RT Specialty employees held a heartwarming event at RT Specialty's downtown Los Angeles office to reveal to wish kid Lylah that she would finally have her wish granted after having to delay it due to the pandemic. Lylah's mother, stepfather and brother were all there to join in the celebration.
RT Specialty raised the funds via charitable donations to send Lylah, a 12-year-old girl, currently in remission from leukemia, along with her parents and 5-year-old brother, on an all-inclusive Hawaiian vacation, intended to bring joy and uplift the entire family's spirits from the stress over many years of Lylah battling this challenging illness. The successful event filled the hearts and brought smiles to everyone involved.
For more information regarding RT Specialty's Make-A-Wish Foundation efforts, please contact Viviane Woodcock, President, RT Workers' Compensation at Viviane.Woodcock@rtspecialty.com.
About Ryan Specialty
Founded in 2010, Ryan Specialty is a service provider of specialty products and solutions for insurance brokers, agents and carriers. Ryan Specialty provides distribution, underwriting, product development, administration and risk management services by acting as a wholesale broker and a managing underwriter with delegated authority from insurance carriers. Ryan Specialty's mission is to provide industry-leading innovative specialty insurance solutions for insurance brokers, agents and carriers. ryanspecialty.com
About Make-A-Wish Greater Los Angeles
Founded in 1983, Make-A-Wish Greater Los Angeles has granted more than 10,000 wishes to children in Los Angeles County. Annually in Los Angeles, the chapter grants over 300 wishes locally, and facilitates hundreds more for children from all over the world whose wish is to come to Los Angeles. Make-A-Wish Greater Los Angeles is part of Make-A-Wish America, a national organization that grants the wishes of children with critical illnesses. Make-A-Wish America is one of the world's leading children's charities, serving children in every community in the United States and its territories. For more information visit wish.org/la or see us on Facebook, Instagram or Twitter.
Media Contact
Alice Phillips Topping
Chief Marketing & Communications Officer, Ryan Specialty
Alice.Topping@ryanspecialty.com
312-635-5976