Posted on 09.09.22
Ryan Specialty Announces Transportation Practice Leaders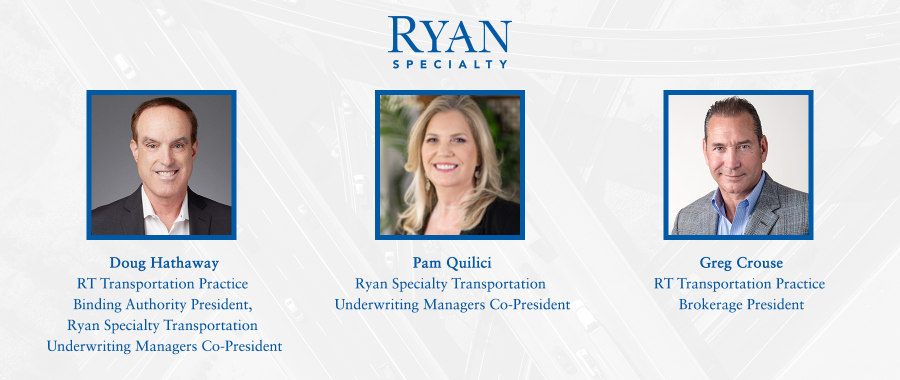 SEPTEMBER 9, 2022 | Chicago, IL – Ryan Specialty (NYSE: RYAN) is pleased to announce Transportation Practice leaders in all three of its specialties. Effective immediately, the following appointments have been made:
Doug Hathaway: President of RT Transportation Practice – Binding Authority
Doug has spent over 25 years in the transportation industry where he has been instrumental with carrier distribution channels, product development, profitable growth, and underwriting discipline. Most recently, Doug served as both the President of RT Specialty National Transportation Practice and CUO of Interstate Insurance Management where he excelled in expanding transportation binding and leading the development of exclusive MGU products.
Pam Quilici & Doug Hathaway: Co-Presidents of Ryan Specialty Transportation Underwriting Managers
Pam joined Ryan Specialty through the acquisition of Crouse and Associates in December, 2021, where she was the COO for the firm. Pam has over 25 years in the wholesale insurance industry where her vision and leadership have been very impactful with the establishment of exclusive transportation products and relationships overall.
Greg Crouse: President of RT Transportation Practice – Brokerage
Greg has been an industry leader in Brokerage Transportation for over 25 years and most recently served as the CEO of Crouse and Associates, a Transportation Wholesaler, which merged with Ryan Specialty in December, 2021. Greg has had direct oversight of creating a high performing brokerage transportation division in addition to developing and mentoring high level transportation brokers.
The existing Interstate Insurance Management program will be rebranded as Ryan Specialty Transportation Underwriting Managers and will serve as an expanded MGA platform bringing supporting expertise to our binding markets and two existing proprietary truck facilities. Doug Hathaway and Pam Quilici will be Co-Presidents of all propriety transportation underwriting facilities for Ryan Specialty.
Commenting on the Transportation leadership, Tim Turner, President of Ryan Specialty said, "We continue to build bench strength as part of our commitment to be the most effective and strongest product offering in Brokerage, Binding and Underwriting truck platform in the industry. Crouse and Interstate have been exceptional acquisitions for us, and I'm excited to see Greg, Pam and Doug continue to expand their responsibilities within Ryan Specialty."
Miles Wuller, President & CEO of Ryan Specialty Underwriting Managers, added, "Doug and Pam bring together careers of transportation underwriting expertise across all 50 states on both an admitted and E&S basis. The formalization of Ryan Specialty Transportation Underwriting Managers will bring the resource and oversight together to service our existing proprietary transportation facilities and further the development of new solutions."
These individuals can be contacted as follows:
Doug Hathaway – Doug.Hathaway@ryansg.com or 678.497.0273
Pam Quilici – Pam.Quilici@rtspecialty.com or 415.365.4866
Greg Crouse – Greg.Crouse@rtspecialty.com or 415.365.4864
About Ryan Specialty
Founded in 2010, Ryan Specialty is a service provider of specialty products and solutions for insurance brokers, agents and carriers. The firm provides distribution, underwriting, product development, administration and risk management services by acting as a wholesale broker and a managing underwriter with delegated authority from insurance carriers. Ryan Specialty's mission is to provide industry-leading innovative specialty insurance solutions for insurance brokers, agents and carriers. (NYSE: RYAN) ryanspecialty.com