Posted on 09.01.20
Ryan Specialty Group and All Risks Finalize Merger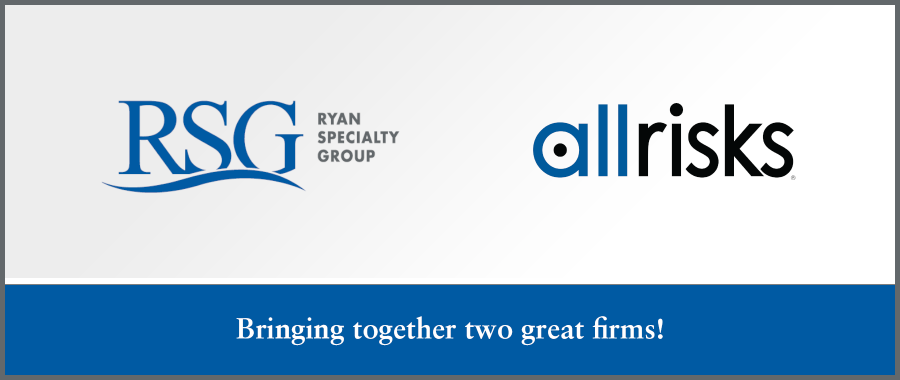 September 1, 2020, CHICAGO, IL – Ryan Specialty Group, LLC (RSG) and All Risks, Ltd. (All Risks) are pleased to announce the completion of the transaction to merge the two firms into Ryan Specialty Group. RSG is an insurance specialist providing services in wholesale brokerage and delegated underwriting authority in the form of binding authorities, programs and managing general underwriting companies.
Explaining the strategy of combining these two outstanding companies, Patrick G. Ryan, Founder, Chairman and CEO of Ryan Specialty Group, commented, "The world has become a much riskier place, and our clients' needs have expanded. As hazards continue to evolve, they are becoming larger and more complex. Social inflation liability, cyber and transactional exposures, among a myriad of other emerging and ever-present unforeseen threats, require forward-thinking responses. To provide our clients the best solutions, we have brought together an exceptional group of brokers and underwriters. Along with the extraordinary talent that All Risks brings to the group, there are over 36 superb specialty programs, an industry leading training and development platform in All Risks University, and a deep, complementary culture. Further strengthened by the former All Risks team, Ryan Specialty Group is in prime position to continue to be nimble and innovative as we create products and find the answers that meet the ever-changing needs of the industry."
Nick Cortezi, CEO of All Risks, added, "RSG is a natural fit for All Risks. We share the same values, the same focus, and the same will to win. We could not be more excited about bringing these two remarkable companies together. The combination of resources and talent enables us to continue to raise the bar for excellence in wholesale brokerage and rapidly expanding delegated authority responsibilities. Looking forward to great days ahead!"
Terms of the transaction were not disclosed.
J.P. Morgan served as sole M&A Advisor to Ryan Specialty Group. J.P. Morgan, Barclays, and BMO Capital Markets served as Financial Advisors to Ryan Specialty Group.
Reagan Consulting served as M&A Advisor to All Risks, Ltd.
For more information, please contact:
Alice Phillips Topping, Chief Marketing and Communications Officer, Ryan Specialty Group, at: Alice.Topping@ryansg.com or 312-635-5976
Marya Propis, Senior Vice President, Director of Distribution and Broker Partners, All Risks, Ltd. at: mpropis@allrisks.com or 646-660-0365
About Ryan Specialty Group, LLC
Founded in 2010, Ryan Specialty Group, LLC is celebrating its 10th anniversary in 2020 and is a leading international specialty insurance organization which includes a wholesale brokerage firm and highly specialized managing general underwriting companies designed specifically for brokers, agents and insurers. ryansg.com
About All Risks, Ltd.
Formed in 1964, All Risks has grown from a one office excess and surplus lines brokerage facility to a national wholesale broker, managing general agency, and program administrator with offices across the country and over 850 employees. allrisks.com