Posted on 09.02.20
Mason Johnston, Senior Property Broker, Joins RT Specialty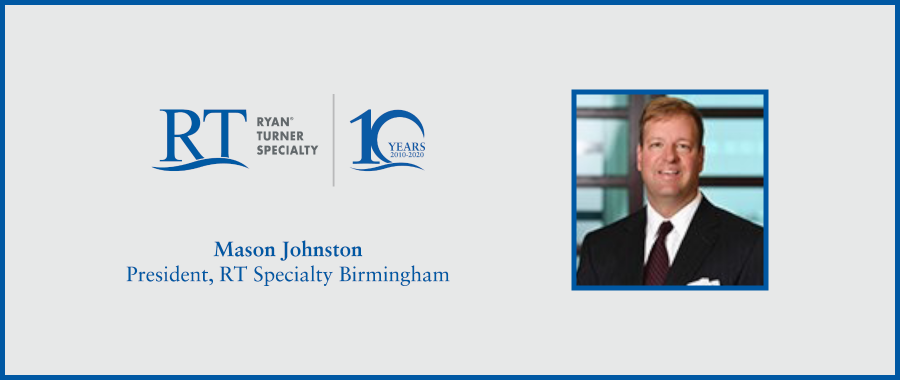 SEPTEMBER 2, 2020, CHICAGO, IL – R-T Specialty, LLC (RT Specialty) is pleased to announce that J. Mason Johnston, CPCU, ARe, has joined the firm. Mason, a well respected senior property broker, will establish RT Specialty's Birmingham, Alabama office, as its President.
Mason is a property and builder's risk specialist and joins RT Specialty from CRC Insurance Services where he has been since 2001. Prior to CRC, Mason was a treaty reinsurance underwriter with Hartford Reinsurance on multiline per risk and catastrophe treaties.
Remarking on Mason joining the RT family, Tim Turner, Chairman and CEO of RT Specialty, said, "We are thrilled to have Mason join RT. Mason is an exceptional broker and a great leader. Under Mason's direction and leadership, we are establishing our presence and opening an office in Birmingham, AL. We are looking forward to further developing this market."
Brenda (Ballard) Austenfeld, President RT National Property Practice, added, "Mason's deep property expertise and strong relationships with key trading partners will be a tremendous addition to continue the momentum of RT Property's incredible growth. Mason is a proven leader within the E&S property arena and very well respected within the industry. We are delighted that Mason has joined RT Specialty, and he is an excellent fit for the team culture of RT Property."
Commenting on joining RT Specialty, Mason Johnston, President, RT Birmingham, stated, "It is truly an honor to have the opportunity to join a progressive market leader like RT Specialty led by Tim Turner who I have known and admired for 20 years."
Mason can be contacted at Mason.Johnston@rtspecialty.com or 205-757-5555.
About RT Specialty
R-T Specialty, LLC (RT), a subsidiary of Ryan Specialty Group, LLC, provides wholesale brokerage and other services to agents and brokers. RT is a Delaware limited liability company based in Illinois. In California: R-T Specialty Insurance Services, LLC License #0G97516. ©2020 Ryan Specialty Group, LLC. rtspecialty.com