Posted on 09.16.20
Seth Johnson Appointed President of RT Binding Authority Effective 1/1/2021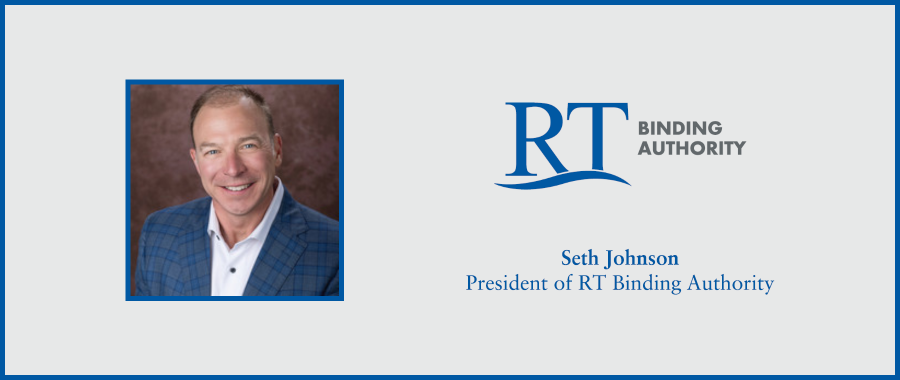 September 16, 2020 | CHICAGO, IL – R-T Specialty, LLC (RT) is pleased to announce that Seth Johnson will become President of RT Binding Authority (RT Binding) effective January 1, 2021, succeeding Scott H. Smith, current President of RT Binding. As previously announced, Scott H. Smith has announced his intent to retire at the end of the year.
Seth Johnson is currently President of RT Specialty – Atlantic. He joined RT Specialty with the acquisition of Atlantic Specialty Lines (ASL), where he was the Chief Operating Officer. Seth gained his deep knowledge of the industry starting from the ground up, learning all facets of the excess and surplus lines marketplace to eventually leading the highest premium growth team within ASL.
Tim Turner, Chairman & CEO of RT Specialty, remarked, "Since joining RT over a year ago, Seth has shown great leadership, strong underwriting skills and a profound understanding of the binding authority business. Seth has built exceptional, high performing, client-centric teams and is the perfect choice to lead RT Binding into the future."
Remarking on his upcoming expanded leadership role within RT, Seth Johnson, said, "I am extremely honored and humbled to be asked to lead RT Binding. RT is comprised of the best, most intelligent, motivated insurance professionals in the business. I've enjoyed working with Scott Smith and look forward to transitioning RT Binding with his excellent insights and wisdom. Scott is highly respected throughout the industry and has developed RT Binding to be a nearly $2 Billion business. I look forward to expanding on what I believe to be the best binding authority platform in the industry."
Scott H. Smith, President of RT Binding Authority, commented, "Seth is the best candidate and an outstanding choice to take RT Binding into the future. Seth's entire career has been in the MGA business and his proven leadership skills have prepared Seth to lead the 45+ RT Binding offices across the country and developed his strategic vision. RT Binding Authority is in excellent hands with Seth as I know he will do an exceptional job."
For more information, please contact Seth Johnson at: Seth.Johnson@rtspecialty.com or 804 338 6698.
About RT Specialty
R-T Specialty, LLC (RT), a subsidiary of Ryan Specialty Group, LLC, provides wholesale brokerage and other services to agents and brokers. RT is a Delaware limited liability company based in Illinois. In California: R-T Specialty Insurance Services, LLC License #0G97516. ©2020 Ryan Specialty Group, LLC. rtspecialty.com